Blockchain Hub Africa Sponsors BCAT Web3 Developers Conference.
BCAT: Blockchain Hub Africa Is Thrilled To Be Part Of The Web3 Devs Conference Sponsors For BCAT 2022
Blockchain Hub Africa is super pumped to be part of the Devs Conference sponsors for the Binance Blockchain and Cryptocurrency Awareness Tour (BCAT) 2022, powered by CryptoTvPlus. The Binance BCAT is a program that aims to run in the same vein as our vision, so we didn't hesitate to participate actively by being part of the sponsors for the Developers Conference.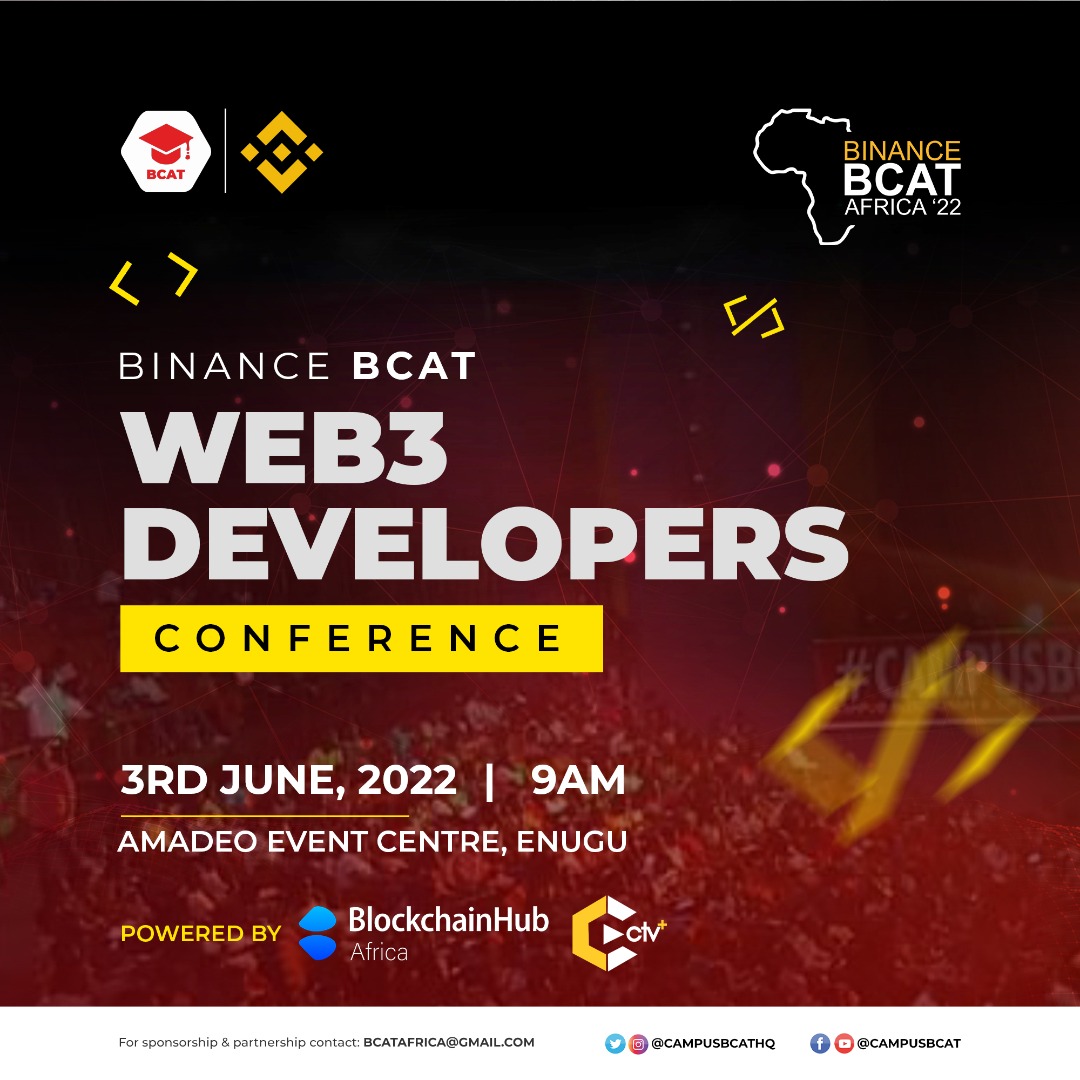 Many opportunities exist in the digital economy; the majority are tradable skills and services held in the world of blockchain and cryptocurrency, from which African youths can benefit. The BCAT initiative was created to increase public awareness of blockchain technology and the benefits it offers.
Blockchain Hub Africa is a community of passionate Web3 builders committed to creating innovative and scalable blockchain-based solutions. Our primary goal is to bridge the gap in Web3 migration and the development of Africa's web3 talent pipeline, thereby promoting blockchain adoption in Africa. This is validated by our Web3 Development Learning Program that will run in partnership with Buildspace (Registration is still open).
BCAT is a blockchain and cryptocurrency awareness campaign with the goal of increasing blockchain and cryptocurrency adoption and empowering millions of Africans. Since its founding in 2019, the Blockchain and Cryptocurrency Awareness campaign has reached thousands of Africans.
The BCAT Africa South East Edition is projected to host about 5000 South Easterners in Nigeria. BCAT will include a Web3 Developers Conference segment in which Blockchain technology will be dissected and attendees will learn what it is, how it works, how to develop one from scratch, and the tools that distinguish one Blockchain protocol from another. The Binance BCAT Web3 Developers Conference will be held on June 3rd, 2022, with seasoned speakers to handle the section.
Furthermore, the Binance BCAT will give participants a thorough grasp of cryptocurrency, as well as Play2Earn (P2E), NFTs, SocialFi, Move2Earn, Metaverse, and Cryptocurrency Career Opportunities.
Binance BCAT Africa South East event details:
Date: June 3rd, 2022
Venue: Amadeo Event Centre, Enugu, Enugu State, Nigeria.
Time: 9:00 a.m.
Register here: https://bit.ly/BcatDevConference